April 9, 1998
"T" is for Texas, "T" is for Track Trouble
When Kenny Wallace was asked if he could see the turn 1 wreck at the Texas 500 coming, his comment was, "Yeah, from three weeks away!" Andy Hillenburg could have told you the same. His wreck in testing back in March, (Test at Texas Track Takes Toll), was the first of many that destroyed over 35 cars at the 1.5 mile track. Problems with drainage, a speed bump in the middle of turns 3 and 4, and the wall that was strategically placed in the high grove coming out of turn 4, were some of the problems that contributed to one of the wildest weekends NASCAR has experienced in a long while.
"Shut up and Race!" I think the drivers would have loved nothing more than to do just that. However when the first day of qualifying was halted, second day qualifying was cancelled and the all important Saturday Happy Hour was eliminated, the drivers were forced to, "Shut up and Wait!" We all know by now that when you stick a microphone in front of a restless and frustrated driver, he is not going to keep his opinion to himself.
As far as the Sadler Racing Team's effort went, they just needed more track time. Every time they hit the track, they were able to improve their speed. Their qualifying run on Saturday morning was the best time they had run all weekend, but it just wasn't enough. The team also does not have enough total points to secure a provisional starting position.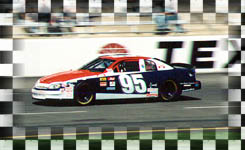 The car looked great, thanks to the awesome paint scheme by Max Moore. The car also sported the decals of Auto Body Express, but the team is still looking for a primary sponsor as they prepare for Talladega.
The team would like to thank Don Imus, of the nationally syndicated "Imus in the Morning", for his support.
Next stop, The Winston 500 at Talladega, AL on April 27th. Then the team plans to run in the Winston Open at Charlotte, NC on May 17th.
Make sure you check out the pictures from the Daytona 500
---
If you have any questions for Andy Hillenburg, Doug Fowler, the crew chief, or Check Sadler, the team manager, e-mail them to [email protected] and we will try to get answers as soon as possible.
---
---
For questions about this site e-mail [email protected]