Speedweek 98 Photography Gallery
Thursday, February 12 — Winston Cup Gatorade Twin 125 Qualifying Race
Andy, Mr. Earl Sadler and Doug Fowler discuss race strategy Sunday morning.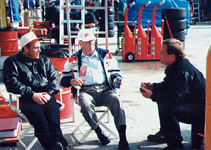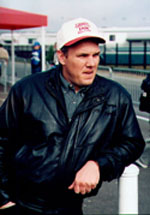 Andy thinking seriously about running in
his first Daytona 500.
Catch Can Man, Tim Green puts on
his safety helmet and his game face.
The Sadler Crew stands
in formation for the National Anthem
and those famous words that fire up the
1998 NASCAR Winston Cup Season,
"Gentlemen, Start Your Engines!!!"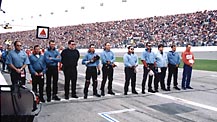 Andy running with the pack, early in the race. Rubber and trash would soon block his front grill, which caused the engine to heat-up, forcing him to have to pit early.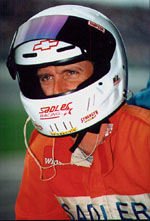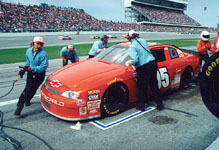 Front Tire Changer, Danny Rollins races
to the left side to complete the 4-tire stop.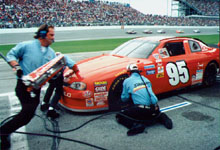 Crew Chief/Jack Man, Doug Fowler follows Danny to the left side as the field goes by.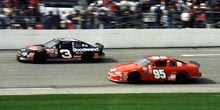 Dale Earnhardt passes Andy in the tri-oval.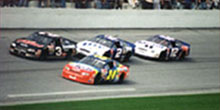 Andy wasn't the only one Dale passed.
Here he gets help from Team Penske.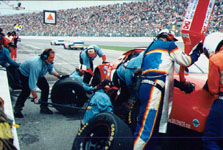 The 95 car gets left side tires and
a second can of Unocal gasoline.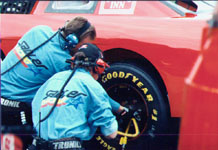 Dale and Robert remain cool
under pressure as they quickly replace
a lug nut that fell off the wheel.
Dale Earnhardt, in the #3 GM Goodwrench Chevrolet, finally wins the Daytona 500 in his 20th start.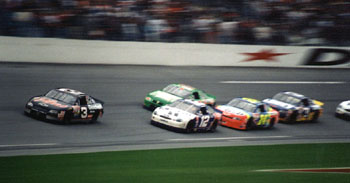 Andy takes time from his busy race weekend schedule to review e-mails sent from fans, friends and family. Everyone wanted to let him know that they were excited and would be pulling for him all of the way!!!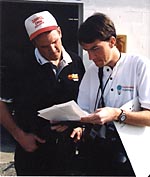 Back to the Photo Gallery List
Return to Sadler Racing's home page.
---
For questions about this site e-mail [email protected]