Hillenburg, Sadler Team Up For Daytona Races
Scene on the Circuit
Nascar Winston Cup Scene, February 5, 1998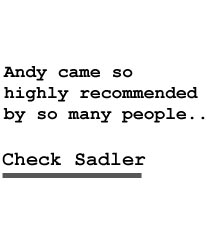 Hillenburg is a two-time winner and defending champion of the Daytona ARCA race. He'll carry sponsorship from Gravy Train in the ARCA race, and from Sho-Lodge, owners of New Sumner Suites, on the Winston Cup effort.
The 34-year-old Indiana native tested Sadler's ARCA machine Jan. 28 at Talladega Superspeedway and a Winston Cup car the next two days.
Team owner Check Sadler said he called Hillenburg as soon as he found out the driver's ARCA deal for this year had fallen through.
"Andy came so highly recommended by so many people, he was too good to pass up," Sadler said. "We're in a David and Goliath situation here, and all we needed was a smooth stone to put in the slingshot. He's the smooth stone. It's the hungry ones we need."
Hillenburg plans to continue testing for other teams, and is still in the hunt for a full-time ride. In the past year, Hillenburg has tested for Andy Petree Racing, IROC, Hendrick Motorsports, Rudd Performance Motorsports, Joe Gibbs Racing and Team Sabco.
"I'm looking forward to having a shot at running the Daytona 500," Hillenburg said. "It's a long shot, sure, but at least it's a shot. It's better than sitting at home watching."
In an effort to concentrate on his driving career, Hillenburg has made several staff appointments at his Fast Track High Performance Driving School. Linda Siegars is now the general manager of business operation; Randy Fisher will continue as marketing director; Matt Mullins rejoins the organization as senior instructor; and Chris Yeary will be public relations director.
Fast Track operates schools at Charlotte Motor Speedway, Atlanta Motor Speedway, Texas Motor Speedway, Bristol Motor Speedway and Nashville Speedway USA.

Hillenburg, Sadler Team Up For Daytona Races
Circle Track – Race South, Young Man
Stock Car Racing – One for the Good Guys
A Single Step? A Leap of Faith?
Visit the Sadler Racing Photography Gallery
Return to Sadler Racing's home page.

---
For questions about this site e-mail [email protected]