Team History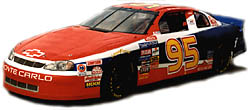 The 2001 racing season marks Sadler Racing's 18th year in racing. Earl Sadler was stricken with the "racing bug" when he witnessed his first stock car race on the beaches of Daytona. At that point, he was determined to one day own his own team.
In 1984, "Mr. Earl's" dream came true as he and his son, Check, formed Sadler Racing to compete on the NASCAR Winston Cup Series. Their first driver was non other than Sterling Marlin.
Mr. Earl and Check have been instrumental in the driving careers of several top drivers on the NASCAR circuit. Along with Sterling Marlin, Sadler Racing has worked with the late Davey Allison, Michael Waltrip, Jeremy Mayfield, Jeff Green, Gary Bradberry, Andy Hillenberg, Bobby Hamilton Jr. and David Keith. The following outline shows Sadler Racing's highlights over the past 18 years.
1984 Earl Sadler formed Sadler Racing to compete on the NASCAR Winston Cup Series. The new team was based in Greenville, SC and they signed Sterling marlin as their driver along with Raymond Kelly as crew chief. In July of that year, Ronnie Grayson was hired as crew chief and the team relocated to Bristol, TN.
1985 Sterling Marlin began the season as the driver. Mike Alexander took over driving duties and recorded a 12th at Michigan. Sadler Racing earned three top ten finishes for the season.
1986 Davey Allison was selected as the team's new driver. This was his pre-rookie season and he recorded a 12th at Richmond in his first event with Sadler Racing.
(the following is the press release from January 23, 1986)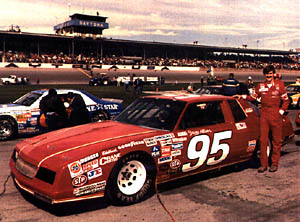 Allison, the 24-year old son of veteran driver Bobby A1lison, will campaign Sadler-owned, Tom Pistone-prepared race cars beginning with the Feb. 16 Daytona 500 at Daytona International Speedway "We will enter the Daytona 500 with plans of running 15 to 20 races," said young Allison who captured much attention last July at Talladega by posting a top-l0 finish in his first career Winston Cup start. "If the sponsorship comes along, we will launch a serious campaign for the Champion Spark Plug Rookie-of-the-Year honors,"
Current plans call for the team to run Chevrolet Monte Carlos through the March 2 Rockingham event and then switch to the 1986 Buick LaSabre. "We wanted to run the Buick from Daytona on, but it will take us until after Rockingham to make the transition," said Allison. "We will have a brand new race car ready by then and the first Buick sheet metal will go on it."
The race cars will be headquartered and maintained in the Charlotte, N.C., shops of Tom Pistone. Pistone will head the racing operation at the track and will serve as crew chief on race day.
"I think we are in the process of putting together a team with a lot of potential," said Sadler, a trucking magnate entering his second year as a Winston Cup car owner. "Davey is a talented young driver who has a bright future ahead in this sport. I think we can have a successful year of growth together in 1986."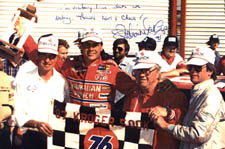 1987 Earl Sadler joined forces with Dick Bahre to form Sadler/Bahre Racing with Michael Waltrip selected as their driver. Although the team was a regular in the Winston Cup Series, they decided to compete in the ARCA Kroger 200 at Atlanta. Michael Waltrip went on to post his first super speedway victory in that event. That team was to become Bahari Racing, now owned by Chuck Rider.
1988 Canadian driver, Trevor Boys, drove in several Winston Cup events for the team.
1989 Trevor Boys competed in selected Winston Cup events for Sadler Racing. Slick Johnson ran in several ARCA Super Car Series events.
1990 Jeff Green ran his first ARCA event at Atlanta where he qualified 13th and crossed the line in 6th. Sadler Racing relocated their racing operation to Nashville, TN.
1991 Eddie Bierschwale competed in the Winston Cup events at Talladega and Atlanta. Ken Ragan ran selected ARCA Super Car Series events. Ken earned three top five finishes which helped him lead the points for the first half of the season. Racing for Kids was rolled out under Ragan and Sadler Racing during the year. Jeremy Mayfield was hired as a fabricator.
1992 Bob Schacht competed in selected Winston Cup events. One highlight was his 18th fastest qualifying effort for the Daytona 500. In addition to their Winston Cup efforts, Sadler Racing had Jeremy Mayfield as a driver in Nashville Motor Raceway's Late Model division. Jeremy finished fourth in the final points and the team was voted Race Team of the Year.
1993 Sadler Racing competed in the entire ARCA Super Car Series schedule and selected Winston Cup events. The team helped Jeremy Mayfield capture the STP ARCA Rookie of the Year honors. The team celebrated one victory at Flat Rock, Michigan; eight top five finishes, and ten top ten finishes. The team also won the Best Appearing Car Award with the ARCA Hooters Cup Series.
1994 Jeremy Mayfield drove the Sadler cars in selected Winston Cup events during the first part of the season. The second part of the season found Jeff Green behind the wheel where he qualified fifth at North Wilkesboro.
1995 Sadler Racing established a rebuilding and testing program to prepare for the '96 racing season. Several drivers participated in the tests, including; Joe Ruttman, Loy Allen, Doug Hevron, Johnny Chapman, and '95/'96 Indy 500 pole winner; the late Scott Brayton.
1996 Chuck Bown was behind the wheel of the Shoney's Restaurant Ford Thunderbird for selected events that included Talladega, Charlotte, and Atlanta; where he was second round fastest. The second part of the season had former ARCA Rookie of the Year, Gary Bradberry in the driver's seat. He was second round fastest at Dover and Indy.
1997 Sadler Racing joined forces with the national children's charity, "Feed The Children. Gary Bradberry started the season in a Chevy Monte Carlo at Daytona and Rockingham. Ed Berrier took over driving duties in Atlanta. Lee Leslie returned to the team as crew chief.
1998 Sadler Racing signs Andy Hillenburg to run Winston Cup and ARCA. Andy finished 3rd in the ARCA FirstPlus Financial 200 at Daytona. He qualified for the 40th annual Daytona 500 by finishing 8th in the second Gatorade 125 Mile Qualifying race, and finished 29th in his first Daytona 500.
1999 Bobby Hamilton Jr. joined the Sadler Team to run several ARCA races and attempt some Busch races. Bobby ran well and landed a full-time Busch ride. Carl Long filled in to run the rest of the ARCA races planned.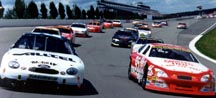 2000 David Keith drove 9 ARCA races for the Sadler's in 2000. He won Daytona and Talladega, finished 2nd at Michigan and 3rd in Charlotte and Atlanta, and won two poles.
2001 David Keith started with year by attempting to qualify for the Daytona ARCA race. Steadman Marlin is slated to run both the ARCA and BUSCH races and the new Nashville Superspeedway.